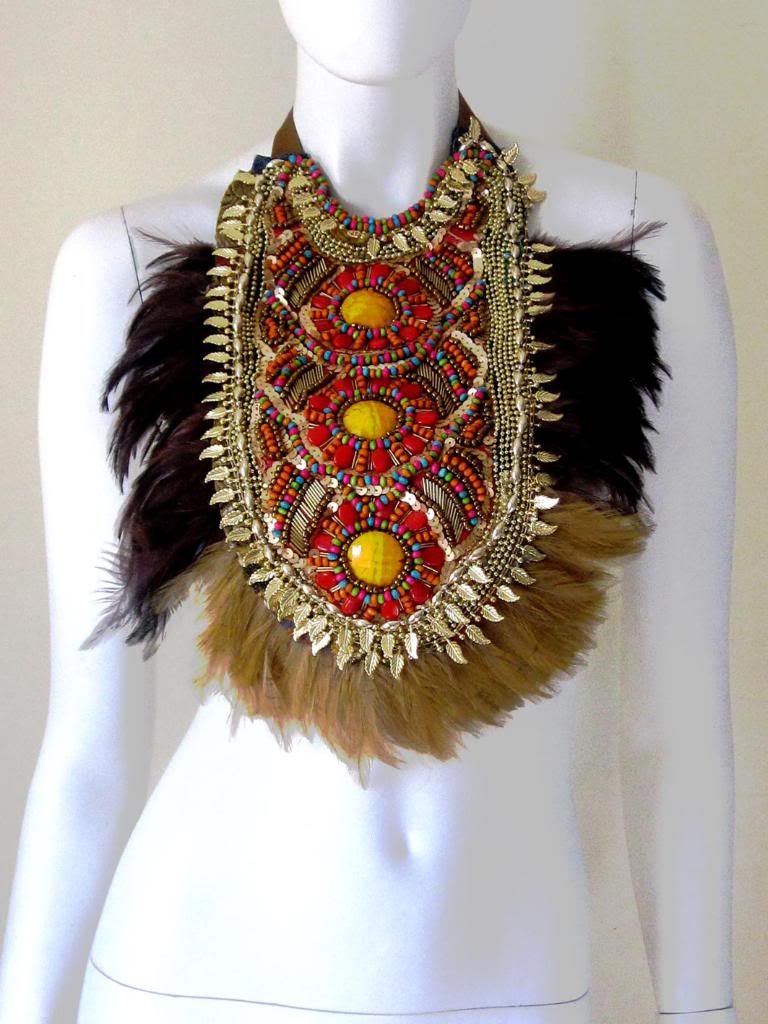 While browsing the web, as I often do, I came across an amazing little online boutique called
Shrimpton Couture
. In that dainty boutique, I discovered a remarkable designer by the name of Anita Quansah. I was instantly taken away to a world of fine craftsmanship. Looking at her work literally took my breath away. I logged on to her
website
which is now under construction, and discovered that Anita, who lives and works in London, graduated from the country's Chelsea College of Art and Design with a BA in textile design. She has collaborated with heavy hitters in the industry such as Christian Lacroix and Donna Karen and has been featured in Deutsch Vogue. In 2004 she decided to start her own label creating textiles, accessories, and clothing. Her work is quite noteworthy and it inspires me to want to do more with my creativity, just like she has. I hope as you are reading this article, you will be inspired to do the same.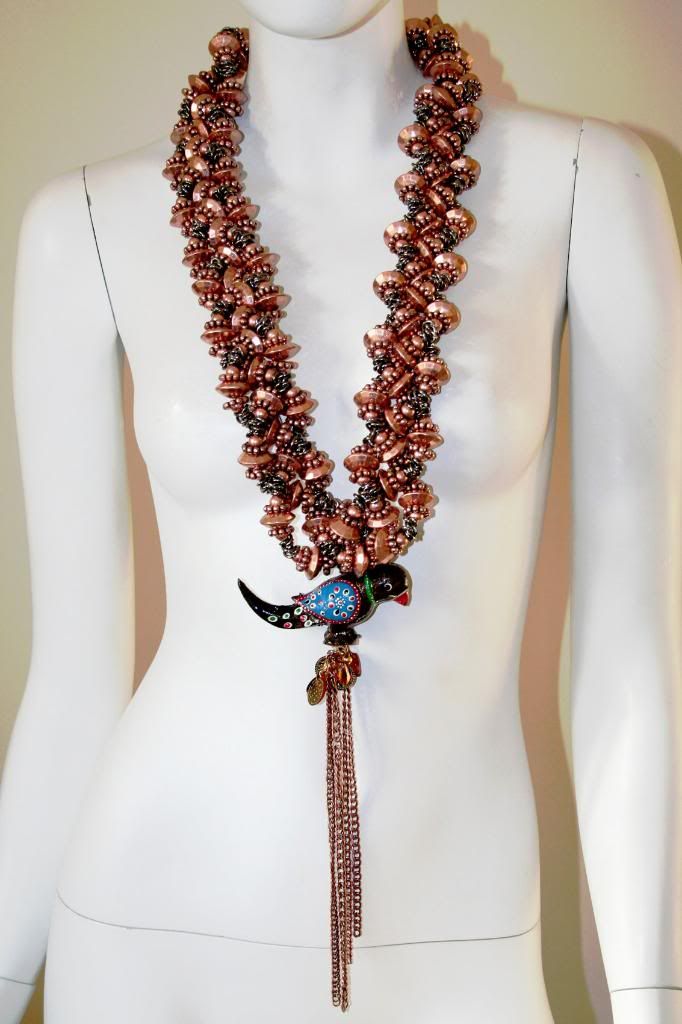 Ashley:
When I look at each of your pieces I see that nature and art is heavily apart of each garment and accessory. Why do you think you are drawn to these types of influences?
Anita:
I draw inspiration from so many things such as culture, travel, nature, music, art, fashion present and past, and music of past and present generations. Most of the time culture and nature has had a huge impact in my designs. For nature inspired design I look to great artists such as Monet, Gustav Klimt and Robert John Thornton. as well as the ever changing beauty that surrounds nature the tone, patterns, placement and proportion. I have an emotional connection to anything relating to nature and culture, and I try to emulate that essence of beauty into my work, because nature is beautiful and can be translated in many ways, so is Culture. I love getting to know about other cultures aside from my own, and enjoy bringing every aspect of that into my work.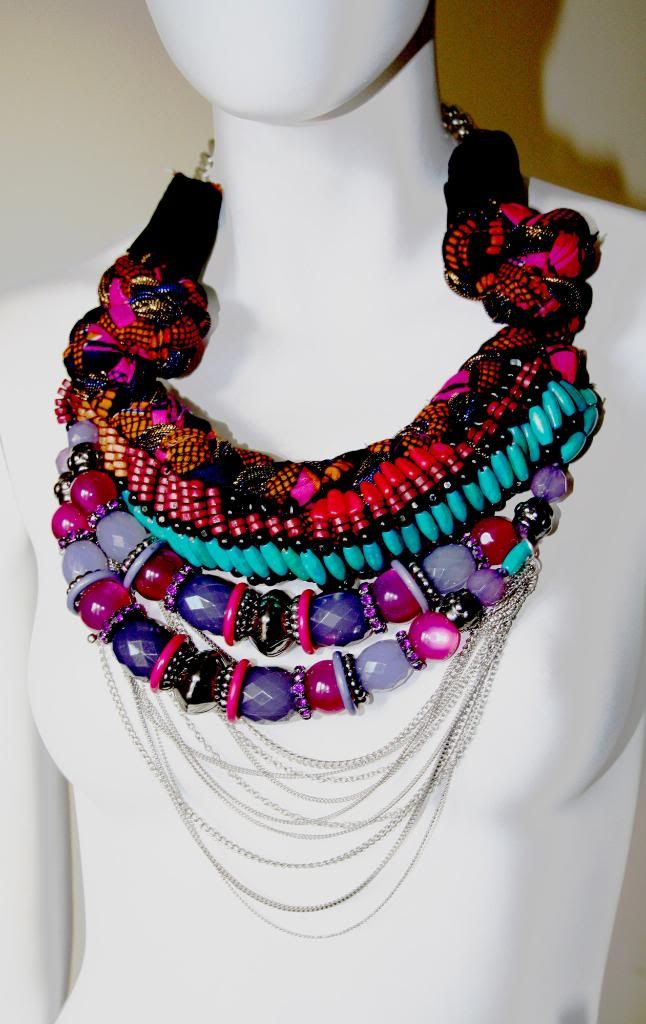 Ashley:
Who did you admire the most when you were growing up? You know, your hero, the person who was your biggest inspiration.
Anita:
I was very much inspired by my grandmother. She is my hero and the reason why I design today. I remember when I was very young, I used to sit and watch my granny whom is a seamstress train a lot of ladies in pattern cutting and stitching, I use to say to myself, this is what I want to be. I want to be in design, creating and making. And today, I still refer back to her for any advice and she is ever so willing to help. I love fashion and all things beautiful. I guess this passion for design and creativity stems from my early childhood, watching her make the most beautiful clothes from very interesting and embroidered textiles. Her Passion for creativity, her energy and her determination is what drove me to start experimenting at a very young age. I guess also being brought up around women and watching their t styles evolve also had an impact on me.
Ashley:
Your work is extremely unique. How did you start what you do?
Anita:
After years of selling my luxury handmade couture fabrics to renowned fashion designers, I wanted to create a fashion line that people could not only learn about the intricate techniques used and see the true value of it, but also fall in love and own a piece of true wearable art. Then in 2004 Anita Quansah London the fashion line was launched. Since then, the line has proven very successful, sold out in the
Laden Showroom London
which was the first ever boutique that stocked the line, then from then, I went on to sell on
Asos
which too was very successful and now I am designing a range of neckpieces to accompany the fashion line.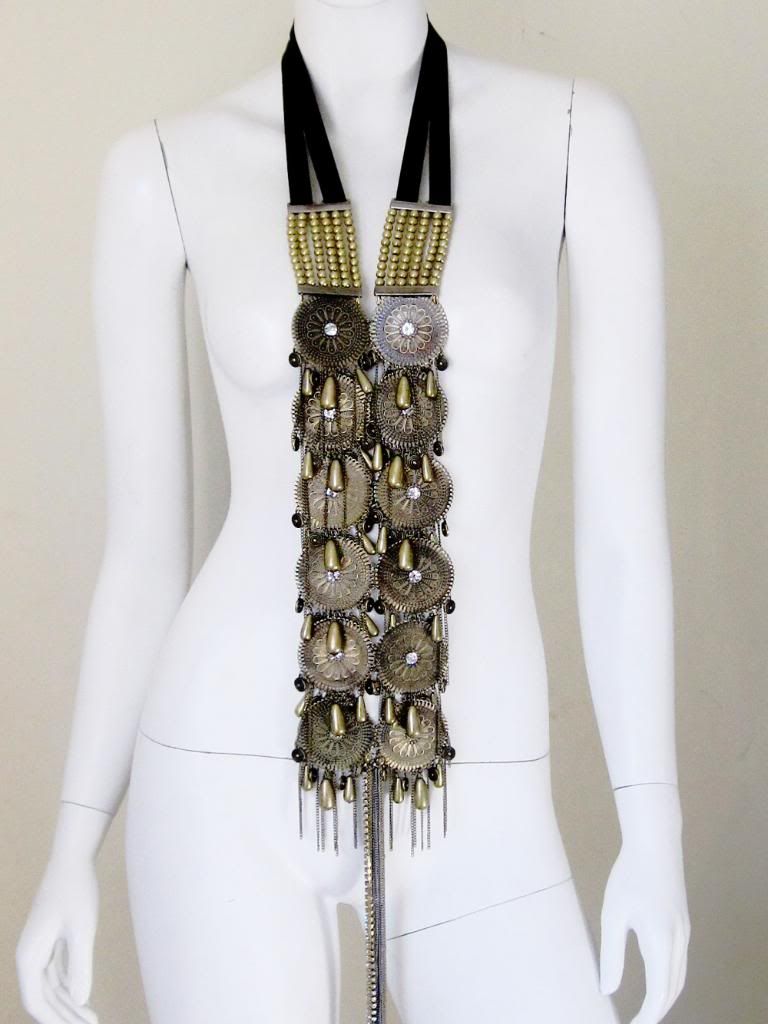 Ashley:
Working in the fashion industry you have a lot of competition. What sets you apart from the rest?
Anita:
My superior craftsmanship, my diverse cultural background, my design ethics and the strong message each piece conveys I believe sets me aside form other designers
Ashley:
What intrigues you about fashion?
Anita:
Everything and anything about fashion still intrigues me.
Ashley:
When did you say to yourself, "You know what, I want to work in fashion?" When was that defining moment?
Anita:
Growing up around my five aunts, each with their unique sense of fashion, had an impact on me. Watching them getting dressed up in high platforms with flowing gowns to flared jeans was big for me. I remember sneaking into my aunt's rooms trying these on her high platforms, striking many poses in front of the mirror, and feeling so happy with my self. All of these things inspired me a great deal. From then on my passion for fashion excelled. I read every fashion magazine, watched every fashion shows on television, and dreamed that I would one day own my own brand. I guess my dream has finally become a reality. It was not an easy journey, and honestly it is still a struggle, but I love every step of it.
Ashley:
Where do you see your company in the next 5-10 years?
Anita:
First, I want to continue making people more aware of recycling especially in fashion. Second, I hope to have made the brand more successful, and a house hold name, have designs -fashion interior and jewelry- stocked in Boutiques, and big department stores worldwide. But most importantly, to maintain the value of my craftsmanship and keep my creative spirit alive
Ashley:
What's your daily routine?
Anita:
My typical day starts off with me checking my emails, corresponding and arranging appointments and shows, updating my flickr and facebook sites. Then finally sketching, designing, and sourcing materials
Ashley:
What words do you live by?
Anita:
Dream, Believe and Achieve.
Ashley:
Your designs have a special quality that I would define as "fun elegance". Do you think this statement sums up what you do? How would you describe what type of woman wears Anita Quansah?
Anita:
I love that "Fun Elegance". (laughs) That is good way of describing my work. I like to believe that every woman who loves, appreciates, and buys into my designs especially jewelry wants something that makes them feel good, powerful, sexy, elegant, and regal. And most importantly pieces that are rare, luxurious, exciting, breathtaking and most importantly individual and ethical.
Ashley:
What's your favorite color and what are your favorite colors to use in each of your designs?
Anita:
I love colors and I love to use bold colors in my work. It is extremely difficult to choose one particular color. I believe that color has a way of uplifting and ones day. So it is extremely important to me that I use this in my work.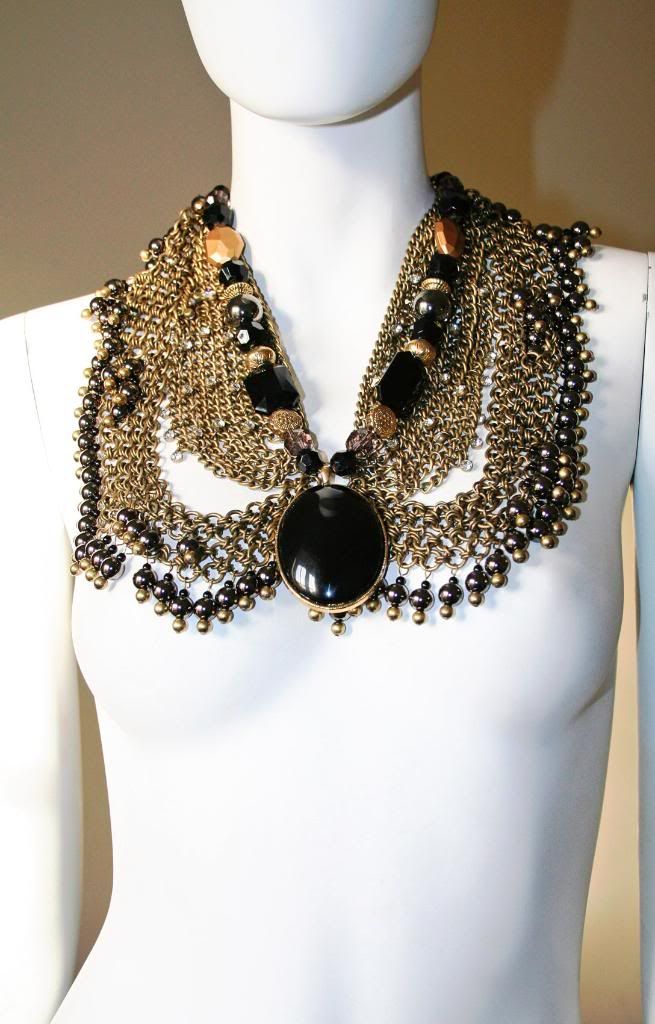 Ashley:
What young designers are on your radar?
Anita:
I like
Dannijo
,
Lizzie Fortunato Jewels
,
Roarke NYC
the list goes on
Ashley:
Who are your favorite bloggers?
Anita:
I love to read about what's going on in the world of fashion and the newly discovered artist or designers. When I have time I read Susie from
StyeBubble
,
Kingdom Of Style
, Kelly from
The Glamorai
,
Marian Kihogo
,
Jade "Purple" Brown
and
Outsapop
. There are so many good blogs out there that it's so hard to choose my favorite. Put it this way, I enjoy reading them all. (smiles)
Ashley:
What fashion websites or magazines inspire you the most?
Anita:
I am very much inspired by websites such as
WGSN
,
Net-a-Porter
,
Style.com
,
Vogue.com
and
Elle.com
. I also frequent
Fashionising
and
The Fashion Spot
. Magazines like Elle, Vogue, Harper's Bazaar, and Another Magazine are my favorite reads.
Ashley:
What do you think is your greatest accomplishment in the fashion industry so far? Likewise, what has been your biggest hurdle?
Anita:
Collaborating with Christian Lacroix, and having my work in Dutch Vogue was a great accomplishment.Deciding to go on my own and set up my label is one of my biggest hurdles, but I'm enjoying growing with my business. Everyday is full of exciting things and ideas. I am learning new things each day.
Ashley:
I read on your site that you worked on collections for many designers? Who was your favorite collaboration?
Anita:
It's so nice to have your designs appreciated by many designers. And to have them buy into your work and even initiate a collaboration is an honor. I loved the collaboration with Christian Lacroix, it was an awesome experience that I will forever cherish.
Ashley:
Going back to you working with Lacroix, was it like a dream? The world of couture is magical and getting even a little taste of it can be exciting. What the most memorable part of working with Lacroix?
Anita:
Working with any designer is a great and unforgettable experience. Collaborating with the great couturier Christian Lacroix was a joyful experience. It came about when I took part in Indigo Paris and was selected as a winner of an exhibition stand at Premiere Vision and Indigo, a big textile show in Paris. At the show, one of the buyers from Christian Lacroix visited my stand, loved the collection and on the spot scheduled an appointment for me to come back to their Paris design house to show them my collection. On the day I showed my collection they took quite a few design swatches, which they finally narrowed down to one that they really wanted to use. This design was then sold to them and became an exclusive piece, which shall not be repeated and then sold to anyone else. Then a cut of the jacket was sent to me in my studio, for me to apply my design. Once that was completed, I was then told that I shall be reproducing that same design again, for a client who saw the design on the runway and wanted it.
The whole experience was fun. They were good clients to work with; they were precise with what they wanted and how they wanted it. You are made to feel welcomed when in the design house. The people are lovely. I was mesmerised by the beautiful creations in the showroom in Paris. The colours, details, and most amazingly the final piece which I worked on was right there amongst other beautiful creations. Monsieur Lacroix himself is a very kind and understanding man. I learned a lot from them. Their expectations and their style of working allowed me to push my creative level to the extreme, to be free, yet structured in my design style creating a sumptuous piece that is textural with a contemporary edge.
Ashley:
Who are you itching to collaborate with next?
Anita:
I am itching to work with any talented artist or designer. I do not limit myself.
Ashley:
What's your favorite thing to wear?
Anita:
At the moment I find myself wearing a lot of black with very loud bright statement jewelry by Anita Quansah London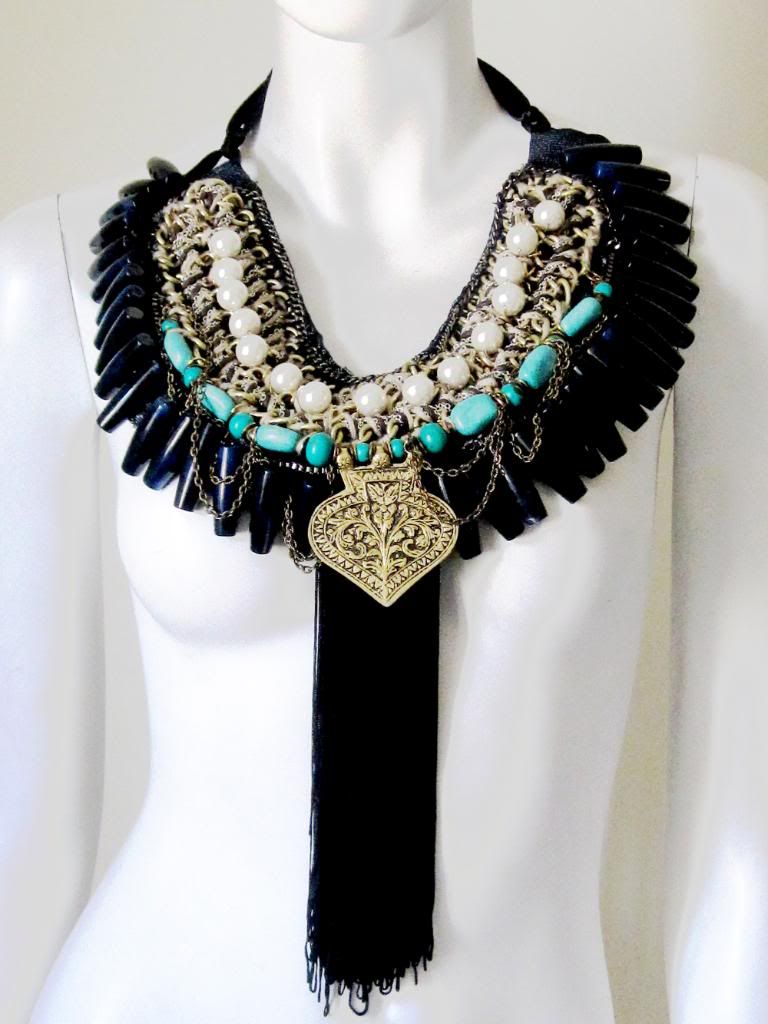 Ashley:
What is your favorite thing to make?
Anita:
I love creating all things beautiful, from textiles for fashion and interiors to jewelry.
Ashley:
With technology developing at what seems to be the speed of light what do you think the future of fashion is? Many have been talking about the "democratization" of fashion because of the power of the internet. What's your take on this?
Anita:
I think fashion is evolving extremely fast. It's amazing how technology has made things a lot easier and accessible. Without the internet, one would not be able to keep up with the latest happenings. Can you believe this? I am in my studio, watching the fashion shows streamed live from my computer. Ten years ago that was impossible. Now you have the ipad, which by the way I cannot live without. I cannot wait to see what will happen next. I am excited to see the relationship between fashion and technology. This is probably the best thing that has happened to fashion to date.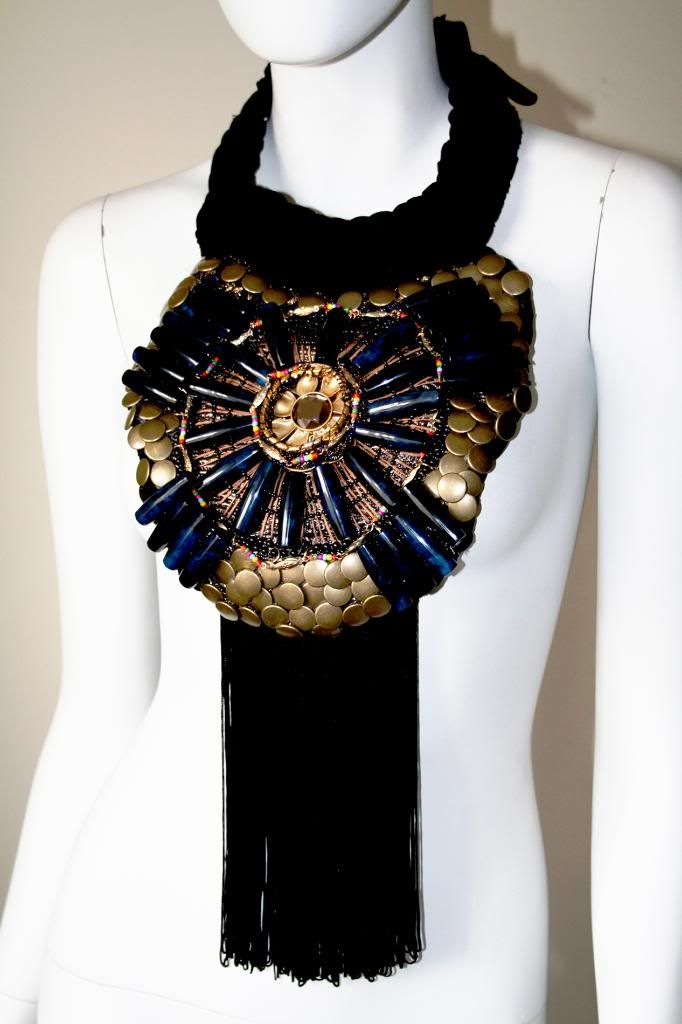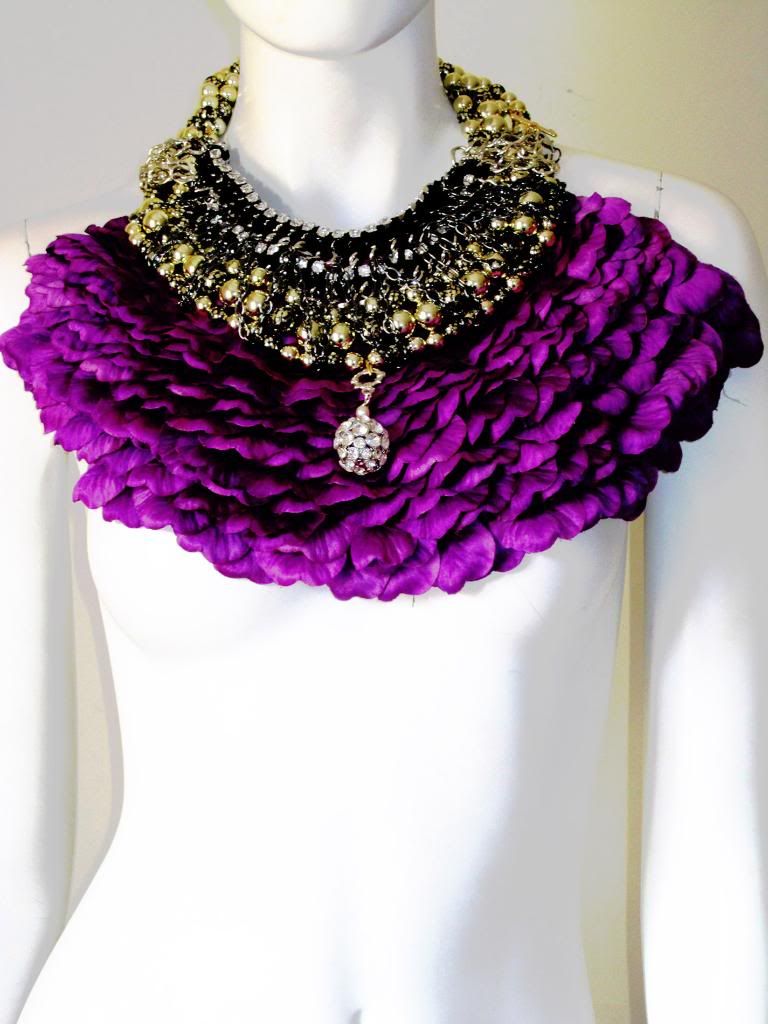 Ashley:
Where do you see fashion going in the next 20 years?
Anita:
Fashion is evolving so fast, that I am looking forward to the next 20 years. I cannot predict what will happen, but I hope to be part of that big change.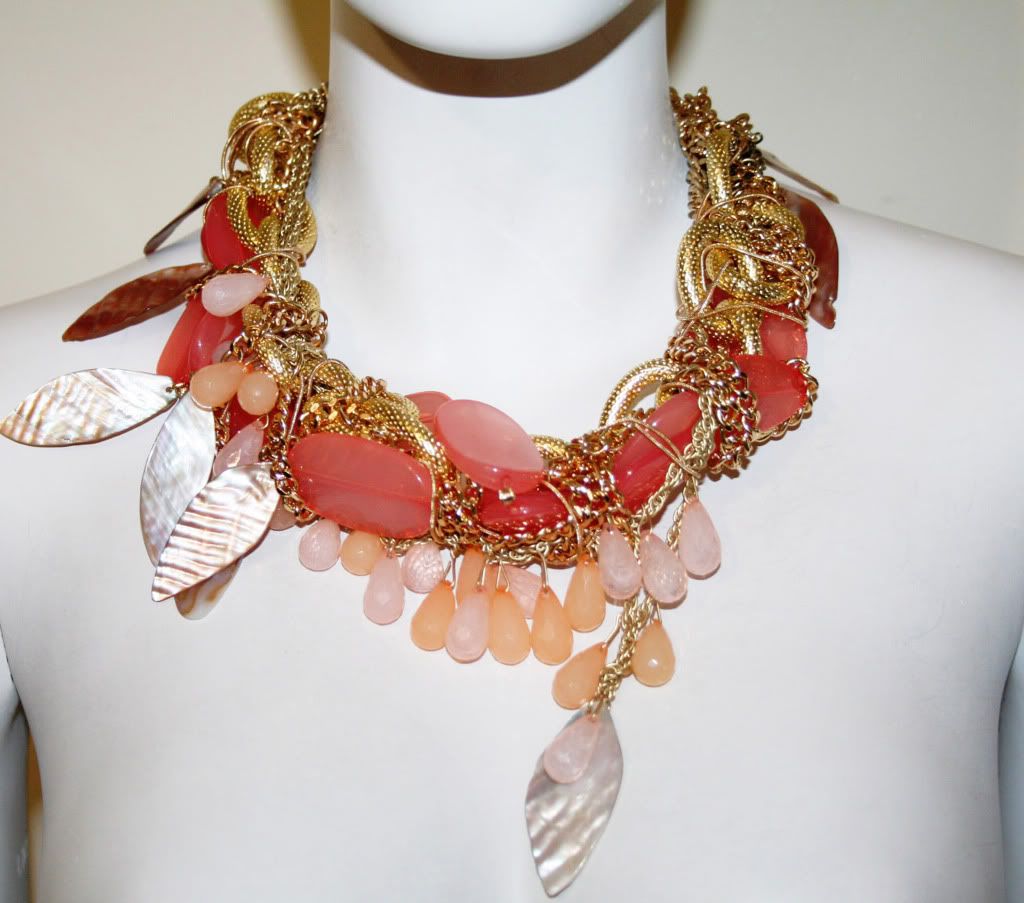 Ashley:
My last question is a bit controversial. With Essence magazine's recent hire of a white fashion magazine editor in replacement of a black fashion editor, people in the fashion world (especially Black people) have roared with all sorts of comments, good and bad. Do you feel like the magazine made the right decision? What decision would you have made?
Anita:
This is a controversial issue. But all I can say is that experience or talents has no colour or boundaries. If I was in that position, I would hire the right person for the job regardless of their color or race.
Make sure you go on
Shrimpton Couture
to see more of these beautiful pieces. And hey! Why not buy one?
Love,
Ashley